Please enter a zipcode or click on the "Geolocate me" button to easily find the nearest agency.
Énergie positive
Énergies renouvelables
Fournisseur énergie verte
Geothermal energy
Heating and cooling energy networks and smart grids
Kickstarted by the Etablissement Public d'Aménagement Paris-Saclay (EPAPS) public development agency, the Paris-Saclay campus is a highly ambitious project. The goal here is to bring together over 1,740,000 m2 of higher education establishments, universities, laboratories, public and private research centres, and high-tech companies for a positive-energy academic and scientific hub that combines eco-friendly, sustainable, and economic development.
Injecting our expertise into renewable energy
Our cutting-edge expertise ensured we were selected to take on this high energy efficiency project. The EPAPS entrusted us with their development plans, contracting us to handle design, development, operations and maintenance for the site. The contract applies to the entire cooling and heating network set to supply the Paris-Saclay urban campus. Idex will take on responsibility for all heating, domestic hot water, air-conditioning, and cooling needs for over a hundred buildings.
A network combining recovered and renewable energy with digital technology
We set up a smart heating and low-temperature cooling network, drawing on intermediate geothermal energy to do so.
Intermediate geothermal energy refers to the solar energy stored underground in the form of calories - a major source of renewable heat. In our case, the network is structured over a calorie-distribution system fed into by the Albien aquifer groundwater in the Paris basin. The Albien aquifer contains an estimated 700 billion m3 of high-quality water reserves.
Heat pumps supply the heating and cooling system using water heated to 30°C, a temperature that ensures residual energy currently unrecovered and left over from research activities and processes on the Plateau de Saclay can be reused, with no additional energy needed.
The heating and cooling network will be linked up to a smart electricity network to form Paris-Saclay's very own multi-energy smart grid. This network's ground-breaking USP lies in its high-performance buildings that are interconnected to one another. Its eco-friendly design and the manner in which it is paving the way forward for smart energy management across the region and scientific cooperation make it a flagship French tech project in the energy transition sector.
Our values
Recovering local renewable energy
Getting users' and occupants' energy bills under control, with the focus on competitive pricing in the short term, and total stability over the long term
Harnessing the region's incredible wealth of resources to design the energy services of the future
 
Slashing the urban campus's carbon footprint (CO2 emissions of under 75g of CO2/kWh, three times less than gas).
 
Facts and figures
8,1 km of heating network line
5 km of cooling network line
8,9 km of warm water network line
6 100 tonnes of CO2 saved every year
4  geothermal drills in the Albien aquifer (-700 m, 30°C, 400 m3/h)
2  heat and cold production thermal stations
Ile de France
Chauffage urbain
Réseau de chaleur
Heating and cooling energy networks and smart grids
Idex runs the largest heating and cooling network in France
Idex runs and manages the urban air-conditioning and heating network in Paris-La Défense, Europe's largest residential and business district, via its Enertherm subsidiary. It is now France's largest cooling and heating network. The infrastructure here meets the daily energy needs of thousands of people, all in stringent compliance with the very best practices in force in terms of health, safety, the environment, and energy performance.
As the concessionary for Géneria (the La Défense region's urban heating joint association) until 2032, Idex produces and distributes heat and chilled water across the residential and business district. Idex subsidiary Enertherm is the contracting authority tasked with developing and maintaining all the infrastructure needed to provide this service, at its own risk and cost. It is also responsible for ensuring the service runs smoothly.
Under the terms of the contract, Enertherm must ensure:
compliance with applicable regulations
compliance with the emission limit values (Valeurs Limites d'Emission, VLE) set by the operating decree energy supply in line with the technical conditions specified in the contract, and the contractual power limits
compliance with the principle of equal treatment of clients
How the urban heating network and its heating stations work?
The Courbevoie – La Défense station and that of Nanterre were renovated and upgraded in 2005 and 2008 respectively. They supply the energy needed to power urban heating and air-conditioning for the buildings linked up to the network, for a total of 160 office blocks and public-sector offices, as well as 66 housing units and 56 retail spaces.
The Courbevoie – La Défense station comprises a heat production unit with a decanting via piggybacking zone, a desulphurisation unit, cold production, and ice storage. The idea behind 'energy storage' is to create flexibility and bolster energy systems' reliability, rebalancing energy supply and demand over the long term. This storage serves as an emergency solution and provides back-up assistance when air-conditioning demand is high.
Idex's solution for La Défense's urban heating needs
The heating network operates via the two aforementioned stations, as well as two additional remote stations (Carpeaux and Valmy), which feed into the pipe network used to transport superheated and chilled water to the buildings' delivery points. The pipe network is primarily installed in tunnels.
The Paris-La Défense heating and cooling network contributes to a wider sustainable development policy, thanks in particular to its four-fold certification (ISO 9001, ISO 14001, OHSAS 18001, and ISO 50001), and to the investment injected into major works in 2008 and 2014 (GFVT) that has resulted in greenhouse gas emissions being halved.
As committed as ever to achieving energy efficiency and tightly-controlled greenhouse gas emissions, Idex is currently developing plans to transform and upgrade two of the four oil-fired boilers. Once these renovation works are completed, the boilers will be fuelled by agro-pellets, granules made of agricultural waste and by-products, becoming the first heating network in France and Europe to harness this type of energy!
Facts & figures
24 km of heating network line et 14 km of cooling network line
296 MW:  power for the two heating stations
114 MW: power for the cooling station
12 MW: heating power from the thermo-refrigerating pump
8 MW: cooling power from the thermo-refrigerating pump
12 MW: power from the gas cogeneration system
45 MW: agropellet station (currently in development)
Ile de France
Chauffage urbain
Réseau de chaleur
Heating and cooling energy networks and smart grids
As part of our quest to help build sustainable cities, we took up the challenge set by the greater Bordeaux area and the Bordeaux Euratlantiquet Etablissement Public d'Aménagement (EPA, public development agency): supplying heating to 570,000 m2 of new-build BBC (low-energy consumption) buildings and linking up 11,000 existing housing units via a heating network that draws 90% of its energy from the Astria household waste recovery plant.
A heating network aimed at reducing greenhouse gas emissions
Greenhouse gas (GHG) emissions contribute to the greenhouse gas effect, which in turn increases global warming around the world. With this in mind, the Bordeaux greater area and its public development agency decided to embark on a mission to reduce these emissions by building an eco-district underpinned by an urban heating network.
We developed a local energy solution in which 90% of the network is powered by the Unité d'Incinération des Ordures Ménagères (household waste incineration unit) in Bègles (UIOM ASTRIA). The Bordeaux greater area's waste recovery and processing centre lies at the heart of this network.
To ensure uninterrupted service during the UIOM ASTRIA's maintenance periods, a gas-powered heating system was built at the Bordeaux Brienne Marché d'Intérêt National.
How heating networks work
Heating networks are made up of three major components:
A boiler station, a centralised heat production system. There are lots of different types that vary depending on the power and energy sources used: natural gas, biomass, geothermal energy, etc.
The pipes, used to transport the heat-transfer fluid (water or steam) and thermal energy.
The substations, meaning the exchangers that form the heat delivery points. A substation can be linked to a single building or connected to a series of buildings managed by the same entity.
The advantages of heating networks are:
Optimal nuisance management
Improved energy efficiency
Use of renewable energy.
Unfortunately, they cannot be implemented everywhere.
They require high urban density, space, and availability of renewable local resources.
In this example, the Unité d'Incinération des Ordures Ménagères de Bègles (UIOM) has been transformed into an fully functional heating station.
A cooling system is in place, drawing on recovery of waste heat produced by the unit. The power available to the heating network is greater than domestic hot water need in the summer season. This means that the available waste heat can be absorbed and reused in the cooling system come summer.
Facts and figures
90%  recovered renewable energy
27 000 The equivalent of homes supplied
15 000 tonnes of CO2 saved every year
Centre Sud-Ouest
Énergie verte
Énergies renouvelables
Geothermal energy
Steam and hot water
Heating and cooling energy networks and smart grids
Smart solutions for managing renewable energy
A 74 hectares eco-district
No fewer than 74 hectares have been renovated into an eco-district, primarily located across Renault's former industrial sites, and now transformed into offices, housing, retail spaces, facilities and public spaces that blend seamlessly in with the local landscape.
Before the project launched, the town of Boulogne-Billancourt put forward a number of smart energy and architecture options. Idex was chosen to handle operations and maintenance works for the heating and air-conditioning installations, thanks to its expertise in managing multi-energy networks. For this project, we combined several sources of renewable energy and local energy, all in line with sustainable development policy.
Why combine and pool energy networks?
An overview of the energies available
Traditionally, electricity, natural gas, heating, cooling, and water supply networks were designed as independent, standalone systems.
Even today, each tends to be managed on an individual basis. But when it comes to energy transition, the future lies in thinking holistically.
Developing an eco-district means drawing on a start-to-finish overview of available energy, and harnessing complementary attributes by creating synergies between networks. The end goal is to incorporate as much local and renewable energy as possible.
A multi-energy cooling and heating network
We set up a cooling and heating network powered by three different sources of energy, thereby ensuring uninterrupted heating and cooling supply thanks to:
A thermo-frigorific station with seasonal geothermal recovery and optimisation. The two thermo-refrigerating pumps produce heat and cold simultaneously.
An ice storage station with cooling provided by water sourced from the Seine, integrated into the Pont de Sèvres bridge abutments (1,250 m3/h). This storage serves as an emergency solution and provides back-up assistance when air-conditioning demand is high.
A steam/hot water heat-exchanger substation. The steam is primarily sourced from the ISSEANE household waste energy recovery centre in Issy-les-Moulineaux.
This is the first BBC RT 2012-certified network (title V). 'BBC' is an acronym that stands for bâtiment basse consommation in French, meaning 'low-energy building'.
When combined with French thermal regulation RT 2012, it aims to reduce buildings' energy consumption. The regulation entered into force in 2013, and was reviewed by the various Grenelle environmental round tables. The standard applies to new-build housing, and restricts annual energy consumption per square metre to 50 kWh. It highlights the importance of using renewable energy.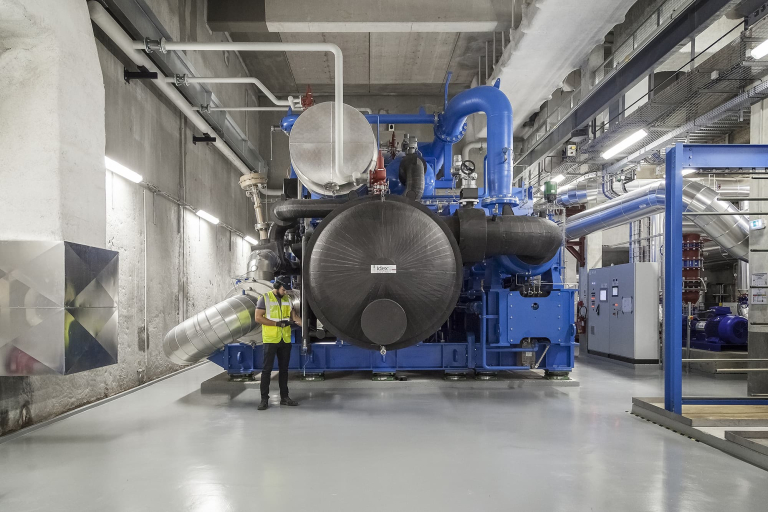 Seamless urban integration: three invisible production stations
The steam heat exchanger is fully integrated into the infrastructure of a co-ownership unit. The ice storage and cooling units, meanwhile, have been incorporated into the Pont de Sèvres bridge's abutments. The thermo-frigorific station has been installed underground in a park. These invisible energy infrastructures gave the architects free rein, allowing them to let their creative juices flow with zero visual constraints linked to heating and air-conditioning technical installations.
Idex is now a leading name in the sector, with a portfolio of 50 urban heating and cooling networks that span small rural networks to a network that covers the La Défense district. Solutions that strike the perfect balance between comfort, controlled costs, and sustainable development.
Facts and figures
14 km of heating network line
12 km of cooling network line
2  thermo-refrigerating pumps (17 MW and 6 MW)
10 shallow geothermal wells
(-40 m, 15°C, 1 500 m3 /h)
Ile de France
Heating and cooling energy networks and smart grids
Idex, awarded a 20-year heating network contract
Rezé's urban land association (association foncière urbaine libre, AFUL) signed up to support plans to create a wood-fired heating network to serve the Rezé-Château district. This project was entrusted to Idex as part of a 20-year contract.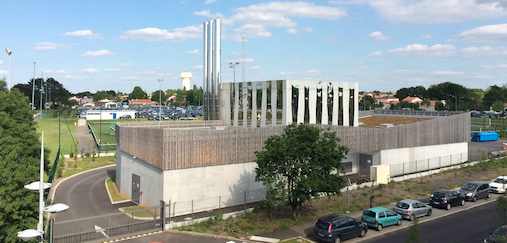 Our responsibilities span the entire length and breadth of the project:
funding the project,
designing and developing the energy production and distribution facilities,
building said facilities,
operating and providing upkeep and maintenance for all infrastructures, facilities, and installations, including the heating network and substations that serve the housing units.
The heating network upgrade and extension works have now been completed, and have extended the network from 1 km to close to 7 km in total.
How the wood-fired heating network works
Wood-fired heating networks come with a number of advantages:
- This is the only way of using low CO2-emitting renewable energy on a wide scale. It is a viable alternative to gas and electricity.
- By drawing on an alternative to fossil fuels, it allows us to adapt in line with energy market fluctuations.
- It contributes to creating jobs thanks to the steps involved in collecting, converting, and using wood fuel.
The heating network features a new boiler room primarily comprised of a 5 MW wood-burning boiler and two gas boilers with combined power of 13 MW.
The Château de Rezé district boiler room heat output is low-temperature, meaning water under 110°. It is distributed via a pre-lagged, pre-insulated steel heating network.
Cutting back on energy bills
In 2017, this boiler room supplied 14,550 MWh for the benefit of all users. 69% of all production drew on biomass energy in the form of wood chips and end-of-life wood sourced from within a 100 km radius. Idex undertakes to supply heating at a competitive price. In addition to wood energy fuel coming in cheaper than fossil fuel energy, subscribers benefit from discounted VAT rates.
Facts and figures
5 MW of wood-fuelled power
12,8 MW of gas-fuelled power
5,5 km of network line built
1 km of existing network line
32 substations, of which 22 were newly built
5 000 tonnes of wood used every year
3 000 tonnes of CO2 saved in 2017
6 000 tonnes of CO2 saved since the network was put into service
Centre-Ouest
Reducing/saving energy and resources
As an independent leader at the forefront of energy transition, we assist you in optimising your buildings' and processes' energy efficiency. From energy performance contracts and energy pledges and management to using your energy-saving certificates to your advantage, we work together to determine the right solutions for your needs.
Harnessing all local energy and reducing your carbon footprint
Idex chooses to prioritise local, renewable, and recovered energy, and boasts 150 wood-fired boilers, over 30 years of experience in geothermal energy, 50 heating and cooling networks, 11 incineration and anaerobic digestion plants, and more. We are well-versed in all types of energy, and can take on all steps in your plans so you don't have to, from audit, design, and construction, to funding and running your installations.
Providing you with comfort and quality in the workplace
Idex offers tailored, innovative solutions to increase comfort, user satisfaction, and longevity for your assets. We provide a custom-designed 360-degree offer that includes multi-technical and multi-service aspects as well as facility management.
Industrial utilities
Idex supports you with energy management and optimisation. We design, develop, and build new constructions or carry out renovations of heating, air-conditioning, air treatment, plumbing, fluid distribution and production, and electricity installations. We also assist with designing, developing, and renovating production plants.
Find our latest news, our actions at the heart of promoting local energies.