Solar thermal energy by Idex
Solar thermal energy is a renewable energy that involves producing heat or hot water via sensors or solar concentrators. This type of energy is especially used for heating networks, whether for industry or collective housing. Idex helps you install, manage and maintain your solar thermal installations to save money on your energy bills.
Solar thermal energy and its advantages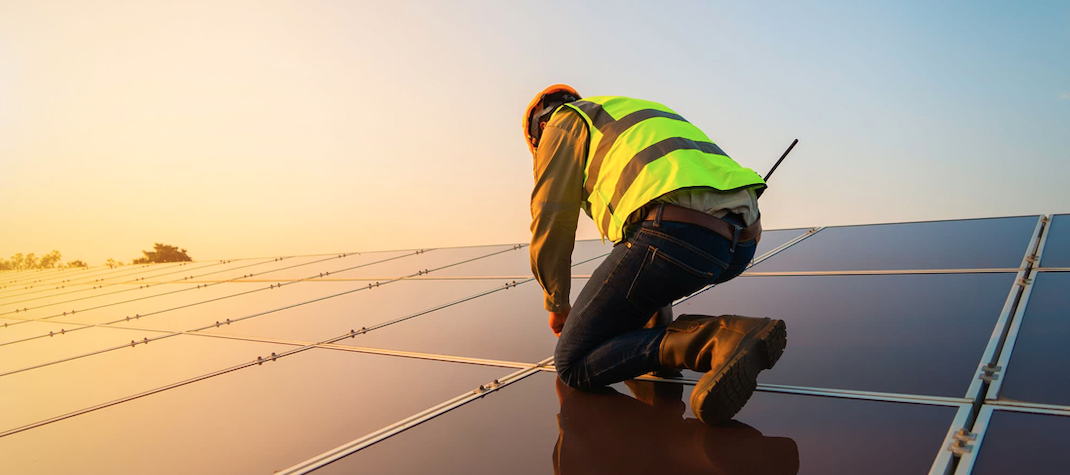 The term solar energy brings to mind electricity-generating photovoltaic panels.
Solar thermal energy, meanwhile, harnesses the heat emitted by the rays of the sun thanks to solar concentrators: incurved mirrors known as absorbers that concentrate heat in glass tubes called receivers. The water contained in these tubes can reach temperatures of up to 200°C/390°F, and is then sent to substations that distribute heat to housing units or industrial buildings.
The pros of solar thermal energy 
Sunlight is readily available everywhere,
The solar energy harnessed by the solar thermal sensors is clean and renewable. By installing this type of solution, you're helping to reduce greenhouse gas emissions.
Solar thermal options are inexpensive to install and result in significant long-term savings,
Maintenance and management costs for this kind of heating solution are relatively low.
Solar thermal energy production is naturally reliant on the level of sunshine wherever the equipment is installed. This means that solar thermal solutions are generally combined with other heat-producing installations, such as biomass boilers. The latter take over when night falls and sunshine is scarce.
Solar thermal energy by Idex
Our solar thermal installations and our specialized management and maintenance solutions allow our local authority and industrial clients to achieve their objectives in terms of:
Green policies and notably reducing CO2 emissions,
Energy efficiency,
Cost-cutting,
Tightening safety and security,
Reducing impact.
Idex invests in partnerships with its clients and commits to achieving tangible results. Idex draws on a toolbox of complementary areas of in-depth expertise in managing heating networks and energy efficiency services with a view to providing a turnkey solution.
Idex's technical expertise/h3>
Idex is equipped to support its local authority and industrial clients across all stages of solar thermal energy installation projects. We help you every step of the way from designing your installation to getting it up and running, and we also handle all maintenance aspects:
Integrating installations into existing heating networks,
Equipment maintenance including regular sensor cleaning,
Heavy maintenance and equipment replacements,
Emission monitoring,
Heat production optimization,
Managing and overseeing installations hand in hand with public sector and industrial clients.
Guaranteed results
By entrusting Idex with installing your solar thermal equipment, you'll enjoy high-impact results in terms of:
Installation availability and capacity
Perfectly controlled CO2 emissions.
A leading name in the solar thermal energy sector
France's 2nd engineering foreign legion in Saint-Christol-d'Albion (84) is one of the French army's most advanced units in terms of energy transition. Idex has been running the site's heating network since 2010, overseeing renewable energy heat distribution to over 80 buildings. This network is powered by a solar thermal field designed by HELIOCLIM. In the summer, our 750m² solar field is able to meet the entire base's heating needs. In the winter, a biomass boiler room is used as back-up, with both systems combined reducing the legion's CO2 emissions by 90%.