Vacuum and compressed air installations
Compressed air is one of the most frequently used fluids in industry, alongside electricity, natural gas, and water. It can be used for a number of different applications and offers a host of benefits for companies. Idex supports you in managing and running all types of vacuum and compressed air production installations.
Managing vacuum and compressed air installations
A number of industries use compressed air to power tools or automate more complex machines. Compressed air draws on air taken from the atmosphere, harnessing its compressibility using a pneumatic system. This air is then maintained at a higher pressure than that of the atmosphere.
Compressors are key components of compressed air installations, and are made up of one or several motors that turn ambient air into compressed air. Motors are mechanical parts that are crucial to your installation running smoothly, and require careful monitoring in terms of maintenance. The equivalent for vacuum production installations are vacuum pumps.
Compressed air production installations also feature various filters to ensure the air produced is clean, as well as multiple storage tanks for continuous air supply. The compressed air is then transported to the plant or factory, all the way to the various tools and machinery via a distribution network. A similar installation with the same features is used for vacuum production.
The benefits of compressed air solutions
Compressed air production installations offer multiple benefits for companies, including:  
cleanliness,
low environmental impact,
low cost of components/parts,
highly sturdy/robust tools,
the ease with which compressed air can be transported,
low sensitivity to environmental factors (heat, dirt, etc.).
These advantages make compressed air one of the most widely used fluids in industry. However, this utility does require high amounts of energy. The biggest priority when it comes to producing compressed air is therefore reducing energy consumption levels. Idex helps you slash compressed air production energy costs, while optimizing production and/or distribution to help boost yields.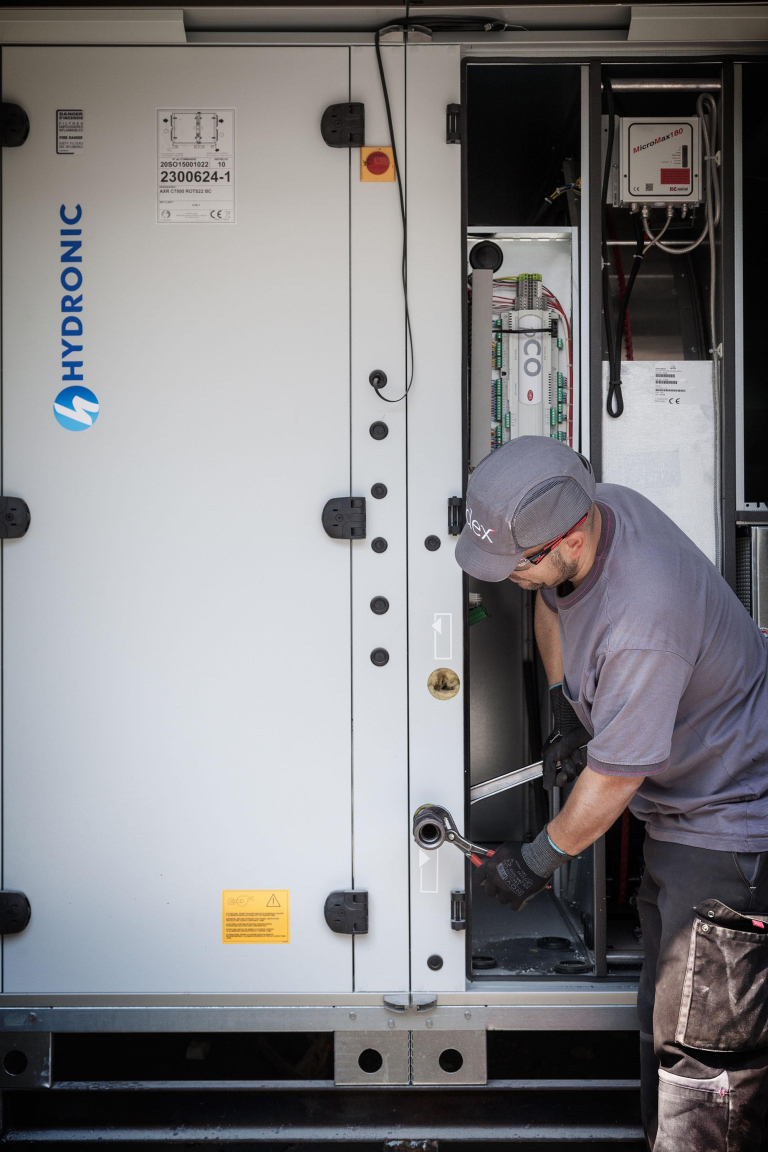 How Idex can benefit your vacuum and compressed air production installations
Compressed air production installations are key to your company's productivity. This means you have high expectations of the third party you choose to entrust with overseeing your compressed air installations, and undoubtedly pay particularly close care to ensuring your installations remain safe and reliable. Energy savings will be a key priority for you, too.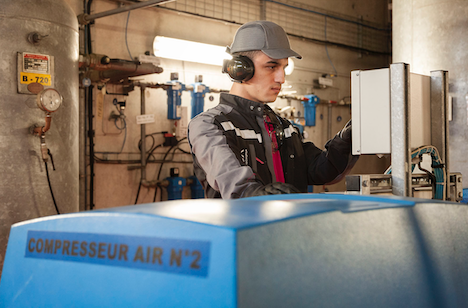 Safety
Because we put safety first, an Idex specialist conducts regular checks of all your installations' compressors in compliance with the norms and standards in force.
 
Reliability
Idex's maintenance and upkeep services for your compressed air distribution network and compressors ensure your production installations achieve high availability and performance.
 
Energy savings
Electricity bills for powering vacuum and compressed air production installations are often steep. Our clients have high expectations with respect to cutting back on their production-related energy costs. By regularly monitoring and tracking your network's performance, Idex helps you meet your energy-saving goals.
Idex's solutions for your vacuum and compressed air production installations
To manage and oversee your vacuum and compressed air production installations, Idex offers four distinct solutions tailored to your needs:
Maintenance
Idex handles all maintenance operations scheduled for your installations, including everyday upkeep as well as simple and comprehensive maintenance. We keep to a tight schedule of preventative maintenance works.
Operations and upkeep
Idex conducts all measuring/surveying, monitoring, configuring, checking, and tracking operations for your installations, in alignment with their operating parameters (flow, pressure). We also take care of all maintenance and upkeep operations.
Technical guarantees
Idex handles technical management aspects for all your installations, including operations and maintenance. When your installations need replacing, we take on the job so you don't have to, ensuring uninterrupted availability and stellar performance.
Number-crunching
Idex ensures set m3 of compressed air (or vacuum) production, in addition to handling technical management aspects for your installation. By incorporating procurement for the energy you need for your installations to run smoothly, this saves you money on your electricity bills, and helps you reduce your carbon footprint.
We also offer a number of different optional add-ons depending on your installations:
Distribution network add-on
We perform 360-degree upkeep across your entire compressed air (or vacuum) distribution network.
 
Network performance add-on
We map out regular checks of your compressed air (or vacuum) distribution network's leak rates, and recommend improvements to implement to ensure your network runs smoothly and performs at its best.
Compressed air production installations managed by Idex
Idex provides a variety of different services for compressed air production installations, particularly in the research sector:
France's National Office for Aerospace Studies and Research (ONERA) boasts five sites fitted out with this type of facility in Meudon, Palaiseau, Chatillon, Saclay, and Dreux.
The CETIM (France's technical research center for the mechanical industries)
The Parfum Christian Dior (Orléans), and MBDA (Bourges) manufacturing sites, and more.