The Seguin Rives de Seine eco-district: a solution that combines renewable and local energy
Smart solutions for managing renewable energy
A 74 hectares eco-district
No fewer than 74 hectares have been renovated into an eco-district, primarily located across Renault's former industrial sites, and now transformed into offices, housing, retail spaces, facilities and public spaces that blend seamlessly in with the local landscape.
Before the project launched, the town of Boulogne-Billancourt put forward a number of smart energy and architecture options. Idex was chosen to handle operations and maintenance works for the heating and air-conditioning installations, thanks to its expertise in managing multi-energy networks. For this project, we combined several sources of renewable energy and local energy, all in line with sustainable development policy.
Why combine and pool energy networks?
An overview of the energies available
Traditionally, electricity, natural gas, heating, cooling, and water supply networks were designed as independent, standalone systems.
Even today, each tends to be managed on an individual basis. But when it comes to energy transition, the future lies in thinking holistically.
Developing an eco-district means drawing on a start-to-finish overview of available energy, and harnessing complementary attributes by creating synergies between networks. The end goal is to incorporate as much local and renewable energy as possible.
A multi-energy cooling and heating network
We set up a cooling and heating network powered by three different sources of energy, thereby ensuring uninterrupted heating and cooling supply thanks to:
A thermo-frigorific station with seasonal geothermal recovery and optimisation. The two thermo-refrigerating pumps produce heat and cold simultaneously.
An ice storage station with cooling provided by water sourced from the Seine, integrated into the Pont de Sèvres bridge abutments (1,250 m3/h). This storage serves as an emergency solution and provides back-up assistance when air-conditioning demand is high.
A steam/hot water heat-exchanger substation. The steam is primarily sourced from the ISSEANE household waste energy recovery centre in Issy-les-Moulineaux.
This is the first BBC RT 2012-certified network (title V). 'BBC' is an acronym that stands for bâtiment basse consommation in French, meaning 'low-energy building'.
When combined with French thermal regulation RT 2012, it aims to reduce buildings' energy consumption. The regulation entered into force in 2013, and was reviewed by the various Grenelle environmental round tables. The standard applies to new-build housing, and restricts annual energy consumption per square metre to 50 kWh. It highlights the importance of using renewable energy.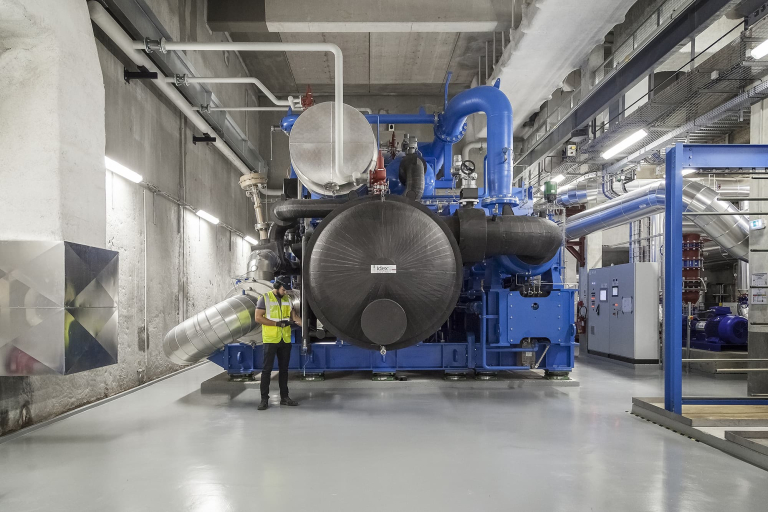 Seamless urban integration: three invisible production stations
The steam heat exchanger is fully integrated into the infrastructure of a co-ownership unit. The ice storage and cooling units, meanwhile, have been incorporated into the Pont de Sèvres bridge's abutments. The thermo-frigorific station has been installed underground in a park. These invisible energy infrastructures gave the architects free rein, allowing them to let their creative juices flow with zero visual constraints linked to heating and air-conditioning technical installations.
Idex is now a leading name in the sector, with a portfolio of 50 urban heating and cooling networks that span small rural networks to a network that covers the La Défense district. Solutions that strike the perfect balance between comfort, controlled costs, and sustainable development.
Facts and figures
14 km of heating network line
12 km of cooling network line
2  thermo-refrigerating pumps (17 MW and 6 MW)
10 shallow geothermal wells
(-40 m, 15°C, 1 500 m3 /h)